Raise the money your music program needs — effortlessly.
Save time and raise big money for your music program with our entirely done-for-you fundraising system.
How It Works
The easiest fundraiser you'll do this year.
We're able to collect thousands of dollars for your program through our smart crowdfunding technology. The process is effortless for you — we gather potential donor information from your students (contact information is always securely protected and never shared), then send personalized messages to the people they've submitted at just the right time. The result is a constant flow of donations from people who support your students.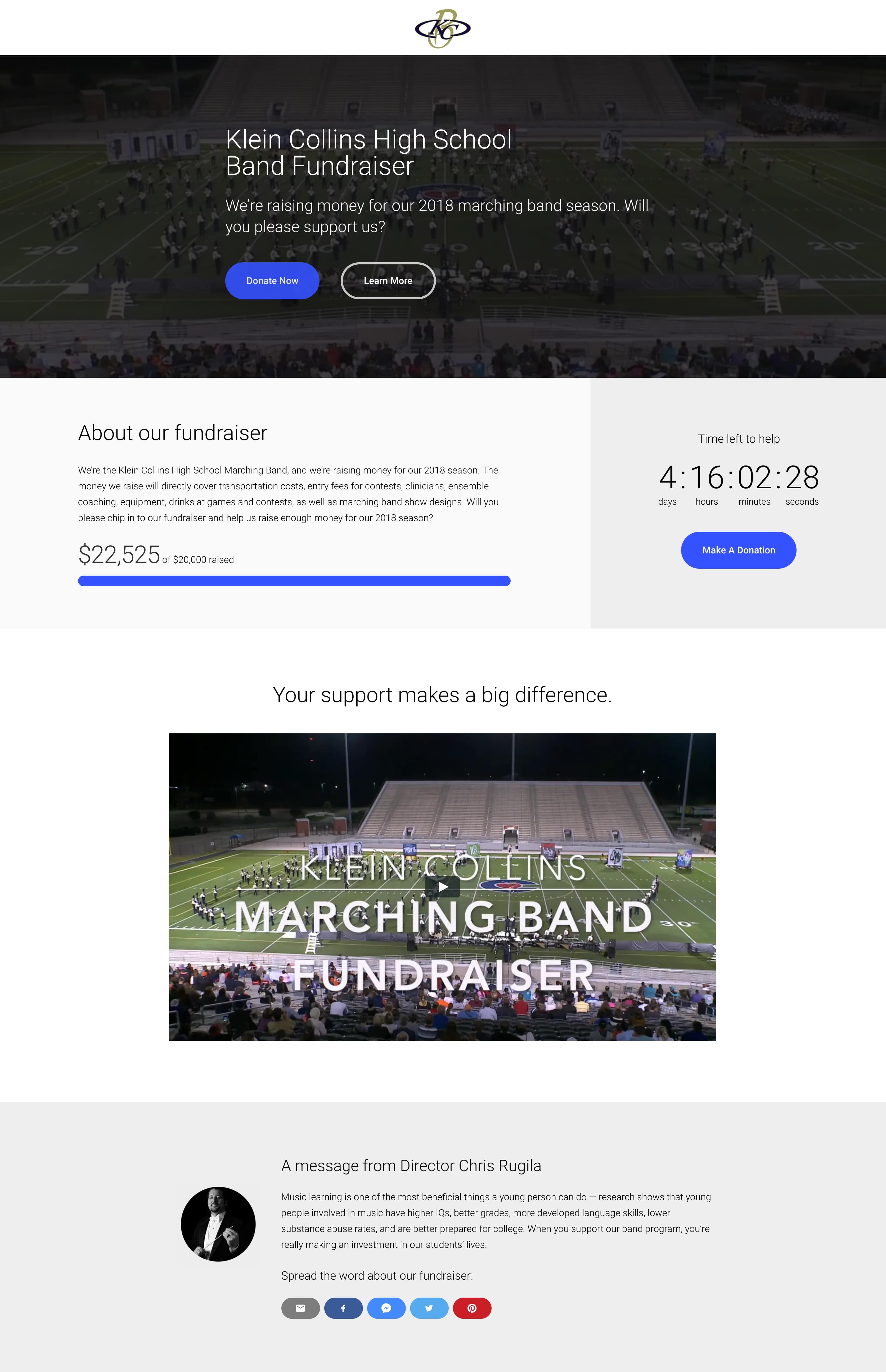 Your donation page is personalized to your school's program.
Thoughtful design helps tell your music program's story in a strikingly visual way.
Your campaign needs are laid out along with your fundraising progress and campaign countdown.
We build a customized video to help drive the importance of music education to your donors.
A personalized message from you is added along with easy social share buttons to expand the reach of your campaign.
We do it all for you, every step of the way.
Every part of your fundraiser is done-for-you, meaning you and your students can focus on making music. We leverage powerful technology to do the heavy lifting.
While other fundraising companies charge between 30-50%, our fee is only 11.8% (plus 3.2% for credit card fees), which covers running your fundraiser from start to finish.
You can sit back while we work our magic. We guide your students and provide instructions and motivation along the way. We can also enroll your student leaders to provide extra support.
Your funds are disbursed to your program / school within 3 days of your fundraiser ending. That means you never have to worry about tracking down the money you raised.
Our donation pages are customized to your program and your students, infused with music education advocacy, and personalized to your specific cause, resulting in more donations.
We automate messages on behalf of your students and merge in personalized details, like the donor and student's name, creating a memorable donor experience.
We can have your fundraiser live in less than an hour. All it takes is your students to provide names of potential donors — that's all!

_
100% secure donation portal
Feel confident knowing donors' information (including credit card data) is securely SSL encrypted. We make sure there are no issues with personal data.
We keep all student and potential donor contact information protected. We never share or use it for anything other than your fundraiser. Ever.

_
Ready for an effortless way to raise money?
Fill out the form below if you're interested in learning more about how we can help you launch a successful fundraiser.